I Did it My Way
If you were to interview entrepreneurial high-tech CEO's having just sold their companies, or less than successful CEO's who wound them up, they would provide a great source of information; however their reflections could sound like a lyric from Frank Sinatra's "My Way", "Regrets, I've had a few".
Underachievement of potential is an opinion many investors will have reached on exiting their high-tech investment. In a conversation with
Nic Brisbourne
, investment partner at Esprit Capital Ventures in London last week, we concluded that the principal factors causing underachievement are generally people, not product related and the root cause is nearly always poor sales and marketing execution.
In hindsight CEO's will generally agree that they should have made changes earlier and knowing what they know now, can tell you what they would have done differently.
But what if entrepreneurs had a method or set of best-practices that were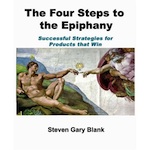 proven to create early sales and marketing success in both startups and new product introductions in high-tech companies…would this change the odds of survival and over/underachievement and the value of the company on exit?
I believe it would and am currently reading and absorbing the wisdom and knowledge captured in Steven Gary Blank's "The Four Steps to the Epiphany", subtitled "successful strategies for products that win", a book about building successful high-tech companies.
Blank is better known in the US than in Europe, having started 8 companies in CEO or Marketing roles, five of which were IPO's including names you may remember: E.piphany an enterprise software company, Ardent a Supercomputer company, two semiconductor companies MIPS Computers and Zilog and according to Blank, three very deep craters.
Blank teaches entrepreneurship and Customer Development at UC Berkeley's Haas Business School, in the Colombia/Berkeley MBA program and at Stanford University at the Graduate School of Engineering.
I love this book!; it's the best advice I have ever read in one volume for entrepreneurs. So many times through this book I said aloud, "wow if i'd only known this back then…..Blank's core thesis in building companies is that there are four discrete stages in the process: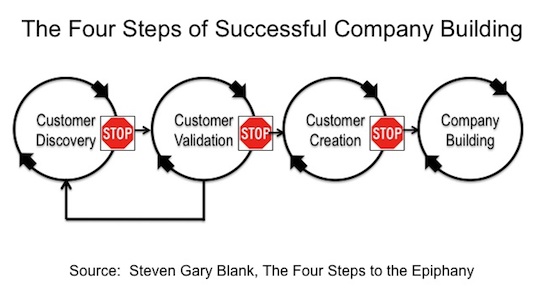 1. Customer Discovery
Customer discovery is about finding out if there are customers for your idea and if and what they would be willing to pay for it, before you write a line of code. This must be done by "gettign out of the office" and talking to real potential customers and of course this removes the guess work in initial product specification - as the spec. is the founders vision and the mimimum working set required to win first customers (or earlyvangelists as Blank calls them).
Customer Discovery removes pricing risk because prospects tell you what they would be prepared to pay and it removes the hiring and market failure risk of alternate approaches, including the popular "build it and they will come" start-up strategy. I strongly recommend
Ash Maurya's Lean Canvass
approach to developing a startup business model and minimum viable product, whether doing a startup or incubating a killer product in a large company.
2. Customer Validation
Customer Validation creates a repeatable sales and marketing roadmap based on the lessons learned in selling (not giving it away) to the first early customers. These first two steps validate the assumptions in your business model, that a market exists for your product, who your customers will be, the target buyers, establishes pricing, sales process and channels strategy.
3. Customer Creation
Customer creation builds on early sales success and after completion of Customer Validation. Blank states that customer creation is dependent on the market entry type which is governed by the nature of the product - is it a disruptive innovation or a me-too. Customer Creation strategies define the four types of start-up
* Startups entering an existing market
* Startups that are creating an entirely new market
* Startups wanting to resegment an existing market as a low cost entrant
* Startups that want to resegment an existing market as a niche player
4. Company Building
Company building is where the company transitions from its informal learning and discovery oriented Customer Development team into formal sales, marketing and business development teams to exploit the company's early success.If you are an entrepreneur or a sales, marketing or business development leader responsible for introducing new products or services, then this book is a must read.

If you click on the book cover above it will take you to Amazon.com where you can order it. If you are interested in the history of Silicon Valley and the birth of the modern venture capital business, you could watch Steve Blank's one hour video on
The Secret History of Silicon Valley
...its fascinating and a great presentation. If you are interested in startup best practice, you could join the
lean startup circle
group on Linkedin. If you are interested in learning more about Admarco's ideas on building companies and successful product introductions, you could read the following blogs;